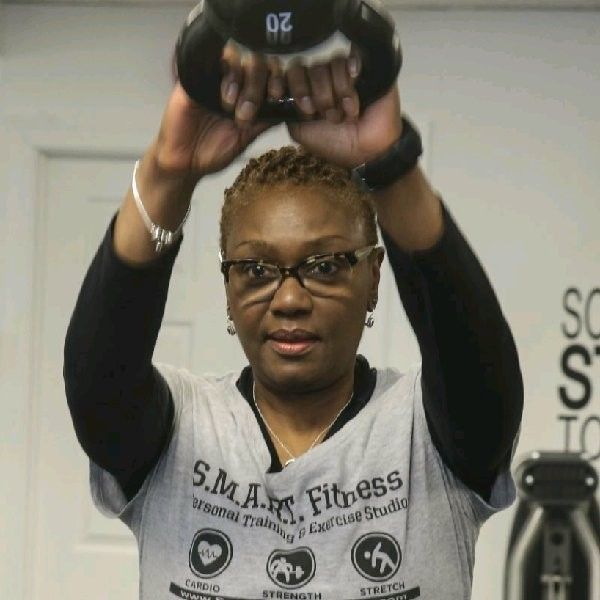 Debra D. Williams, Ed.D
Owner
S.M.A.R.T. Fitness Personal Training and Exercise Studio is the brainchild of Debra D. Williams, Ed.D. and she's on a mission to help you get in shape or stay in shape!

Debra D. Williams, Ed.D. is an American College of Sports Medicine (ACSM) certified personal trainer with more than 20 years of personal and professional experience in the health and physical fitness industry. She is familiar with the different forms of exercise used to improve, maintain, and/or optimize health-related components of physical fitness and performance.

Debra is also a certified Spinning instructor, a certified Chair One Fitness instructor, and a former Aerobics and Fitness Assoc. of America (AFAA) group fitness instructor. She is a former licensed Zumba instructor, obtained a "small group" certificate to lead Kettlebell classes, and has taken workshops in nutrition and the foundations of a healthy diet and lifestyle.

Debra Williams is a success story who was at one time 50 pounds overweight with high cholesterol and borderline high blood pressure. After discovering the benefits of hiring a personal trainer to customize exercises for her and recommend a steady fitness and healthy eating schedule, not only did she lose weight, her physical strength and overall well-being improved. In addition to keeping her unhealthy weight off, she was so inspired by her personal training and exercise experiences; she became a Personal Trainer, a Spinning instructor, and a Group exercise instructor! Now she helps others get healthier and maintain a healthy lifestyle.